March 29th 2023 – Tiger Morning News
March 29, 2023
Weekly News!
Happy Monday!
Please help me with congratulations to our competition cheer team.
They placed 1st in x-large non-tumbling high school cheer.
We had one of our stunt groups place 1st. The stunt group was made up of Genesis Gonzalez (12), Rubi Flores (12), Allison Carroll (11), Nadia Sevilla (11), and Aubriana Rezendiz (9) won, 1st place in stunt downs (head to head competition for stunt groups).
Nevah Armstead (11) won 1st place in her toe touches. Soleil Stevenson (11) and Amarrie Brown (9) were runner ups for their toe touches.
https://youtu.be/haazpy8FIxI
We head to Las Vegas Nationals on April 7th. Please wish them good luck!!
Jennifer Draw
---
Good morning,
The Ed Foundation donation form now includes a spot for
'Our Wonderful Warrior'  is a scholarship fund to remember
Adanesne Carrasco Soto, Our Wonderful Warrior.
Please contact Coach Muscente (2212)  or Coach Ray (2204)
for more information.
Thank you Steve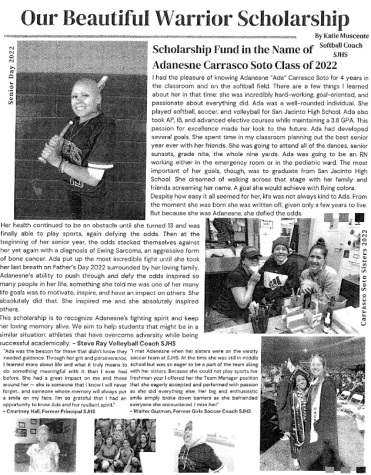 ---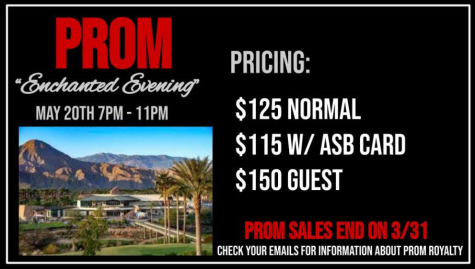 *Prom Permission Slips in the ASB Room
**If you are on the no-go list for attendance but would like to attend, come to Saturday School
–Autumn Clark
---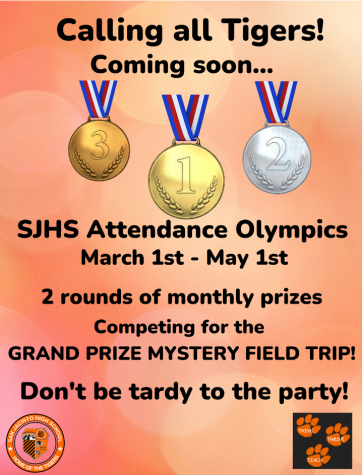 Attendance
Students let's stay off the 'NO GO LIST" and participate in all activities.
If you attend a Saturday school it will remove one day of unexcused absence, and 6 tardies.
NO GO LIST:  3+ Unexcused Full Day absences (since Jan. 10)
18+ Tardies/Truancies (since Jan. 10)
Grades – 2+ F's for First Semester Grades
Discipline – Suspensions/SSR
Link to sign up for Saturday school
Admin Assigned Saturday School 22/23
---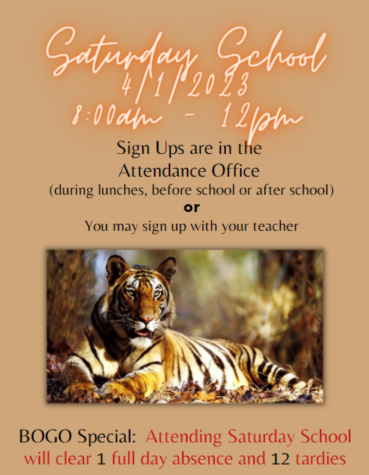 ---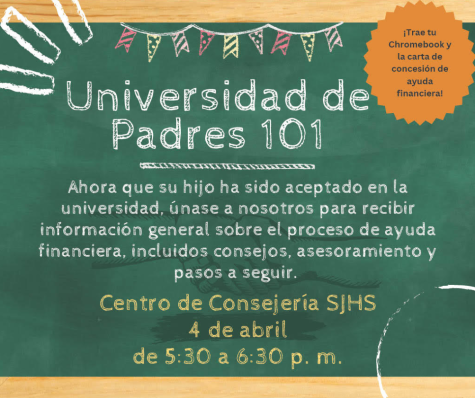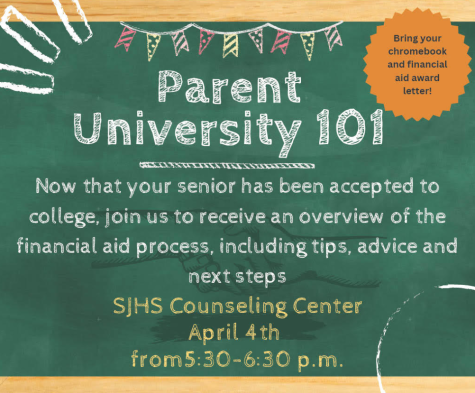 ---
Counselors
Ask a Professional is a great opportunity for students to learn about various career fields from the experts themselves.
Our guest this week will be:
March 1st during flex: Learn about being an Ultra Sound Tech and learn about the Program over at MSJC.
March 2nd during flex: Learn about being a Health Care Recruiter for Aya Health Care.
Future careers include: FBI, Vet Tech, Actress, Sports Medicine, Culinary, Business and much more.
This is a great opportunity to learn about the career  and ask professional questions. Students can earn 1 hour of community service per session attended.  Sign up at tinyurl.com/askapro23  or  in  the counseling center!
Jennifer Aguilar, M.S., PPS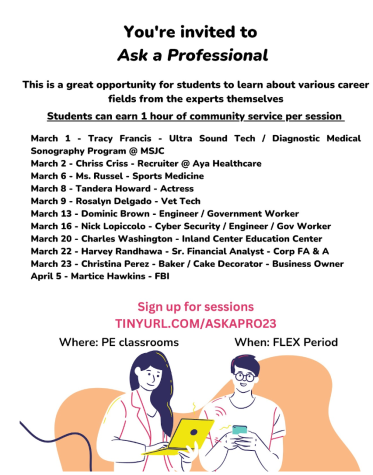 ---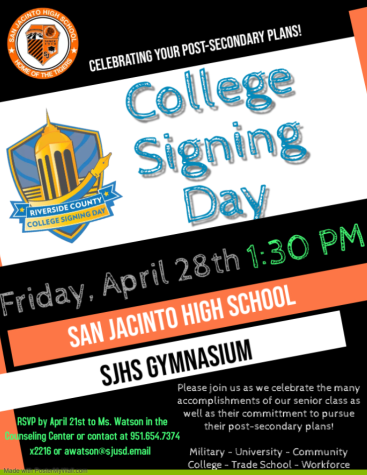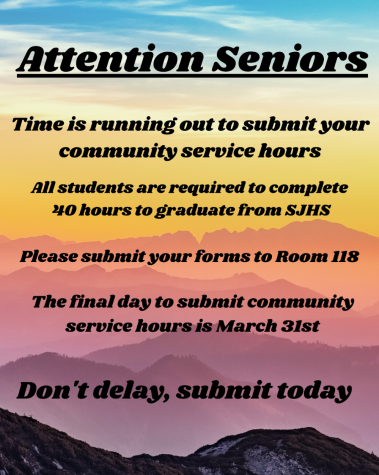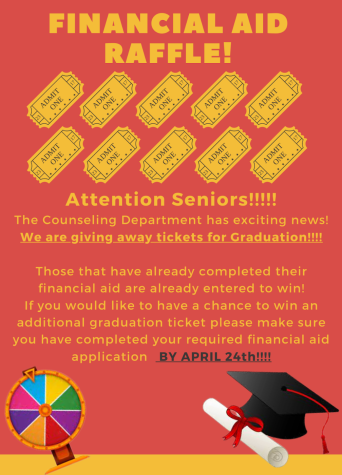 ---
Don't be left out! Juniors:
Are you interested in leaving campus for lunch in your SENIOR year? Come by the Assistant Principals' office in room 119 and pick up your application!
Applications must be signed by student and parent, then returned to Jasmine or Denise anytime between now and June 2, 2023. Last day of school!
Applications submitted after June 2nd WILL NOT BE ACCEPTED!
---
Attention All Seniors. The deadline to turn in Community Service Hours is March 31st. All seniors must have at least 40 hours of Community Service as it is a graduation requirement. Please turn in your hours to Lisa or Monica in the Registrar's Office room #118.
---
The Talent Search Program is in need of 100 new participants to fulfill recruitment needs.  
Talent Search Flyer (Free Tutoring)
Talent Search Tutoring on Tuesdays and Thursdays after school in Room 110.
Eva Aceves – Angeles, MAEd.
Academic Advisor
Talent Search Program
Mt. San Jacinto College
Contact Information
[email protected]
[email protected]
Work Phone Number: (951) 487-3272
Work Hours: Monday – Thursday 8:00 am – 5:30 pm / Friday 8:00 am – 12:00 pm
For more information please visit:
Talent Search Program at MSJC Website
Talent Search Application
Talent Search Application in English
Solicitud de Talent Search
Solicitud de Talent Search en Espanol
Class of 2023
Class of 2023 – Senior Survey Complete ASAP
Needs Assessment
Talent Search Program – Student Needs Assessment 2022 – 2023 Complete it Today!
---
Graduation:
Friday, June 2nd
7:30pm
Tiger Stadium
Graduation Practice:
Tuesday-Friday, May 30-June 2
Time: 8:30-11:30
Practice is Mandatory!!
2023 SENIOR INFORMATION
---
Events!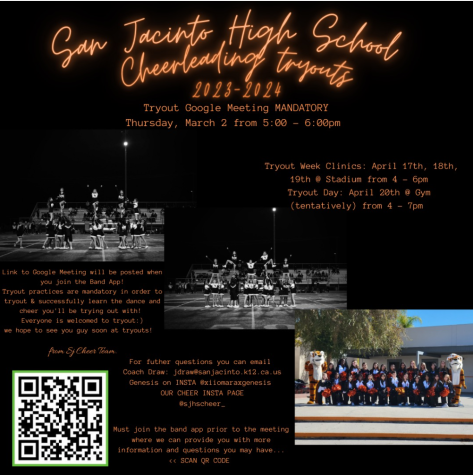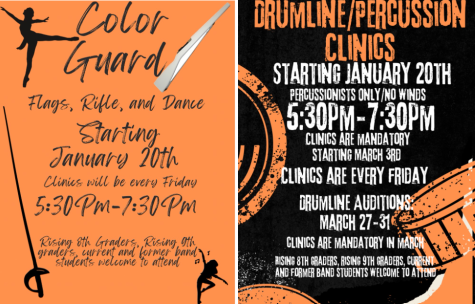 ---
Hello Tigers!!
I hope your finals are faring well with your students! I just wanted to share a couple of flyers with you as I prepare to begin my massive recruiting process for the 2023-2024 school year. I will be sending one more flyer out for color guard as well tomorrow!
The band parent meeting will be in the library! A lot of information will be covered in this meeting!
The purpose of all of these clinics is to get all students on the same page in terms of music literacy, instrument technique and marching technique (we will start marching technique in March/April). This way when band camp rolls around in July students are not lost or confused when musical or marching concepts are asked of them. I just want to ensure student success as we grow.
For students interested in drumline it is in the best interest for them to attend clinics from day one. They will be learning proper technique on drumline instruments as well as front ensemble. Drumline and percussion will be only open to actual percussionists (students who play drums). Drumline Auditions will be March 27- March 31 and the drumline will be selected March 31, 2023.
If you know any former band students who would be interested in returning to band please share with them.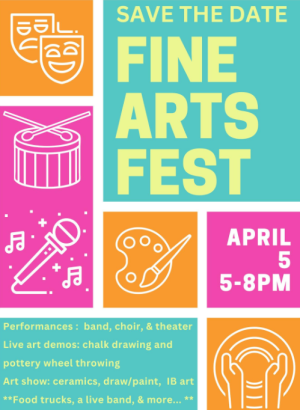 Thank you for the continued support of the Tiger Band Program!
Mr. Harris
---
The VAPA team would like to share with you their flyer for "The Fine Arts Fest"
---
Sports
Baseball
JV-SJHS vs. Citrus Hill 3:[email protected] 1:45pm.
Varsity-SJHS vs. Citrus Hill 3:[email protected] 1:45pm.
Softball
Varsity- vs. Tahquitz 3:[email protected] 1:45pm.
JV-SJHS vs. Tahquitz 3:[email protected] 1:45pm.
Swimming
Boys JV- SJHS vs.Liberty [email protected].
Boys Varsity- SJHS vs.Liberty [email protected].
Girls JV- SJHS vs.Liberty [email protected].
Girls Varsity- SJHS vs.Liberty [email protected].
Tennis (Boys)
Canceled!
Varsity-SJHS vs. Tahquitz 3:[email protected] 2pm.
JV-SJHS vs. Tahquitz 3:[email protected] 2pm.
Track and Field
SJHS vs. Liberty 4pm League [email protected] 2:45pm.
Volleyball (Boys)
JV-SJHS vs. Tahquitz [email protected].
Varsity-SJHS vs. Tahquitz 5:[email protected].