May 10th 2023 – Tiger Morning News
May 10, 2023
Weekly News!
Hey TIGER COUNTRY!
Do you need community service hours?
Do you like to run or just jog/walk and have fun doing it?
Or do you want to compete against some of our finest runners from SJHS and our valley?
Show us what you got & sign up for 5KM (3.10 miles)
Where: @SJHS on campus
When: May 13th (Saturday)
Time: Race starts at 8am
* If you are going to race then make sure to Register using the QR Code or follow this link.
Students only pay $20 with PROMO CODE 'students'.
REGISTER today to make sure you don't miss out on a T-shirt!
Last day to register is Friday, May 12th.
Volunteers needed from 7:30- 12:30. Email Coach Salcedo for more info. or sign up on this google form for volunteering.
https://forms.gle/yFXKBue7E8e6eiLA7
They are also having a contest between school sites for the greatest number of participants (based on a percentage of enrollment), and the winning school will be announced that day!
Let's show THEM what you are made of TIGERS!
The Cross Country team and Club MEChA will be there for any info on how to join for next year!
---
GRADUATION: Cap, Gown, & Tassel are provided by SJUSD free of charge
Distribution: May 16th during lunch in the ASB Room
If you did not fill out the order form or if you are a new student, we still have a cap and gown for you.
If you are interested in ordering other Senior Memorabilia, view the online Catalog: https://www.herffjones.com/catalogs/graduationcatalog/
—
Autumn Clark
ASB/Activities Director
San Jacinto High School
---
Are you thinking of a career in the legal field, as an attorney,
or do you love a challenge of wits?
If so, our own San Jacinto High School Mock Trial Competition Team is assembling now to take up the challenge for the next school year against fellow high school teams from around Riverside County.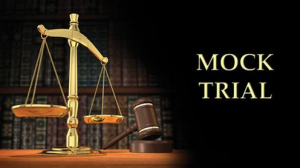 Objective: Interest/Recruitment Meeting Place: Room 231
Date: Thursday May 11th Time: 3:45 pm
Contact Mr. Spriggs via email for further information
---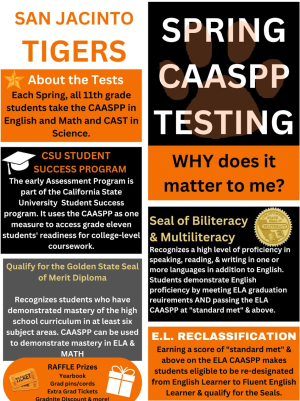 Fidel Salcedo, M.A. Ed
BARR Coordinator
Cross Country Head Coach 
M.E.Ch.A. "El respeto al derecho ajeno es la paz."
"Respect for the rights of others means peace." -Benito Pablo Juarez
---
Don't forget!
Just a reminder, Mother's Day is coming! Don't be caught without flowers for that important woman that helped raise you! Order now with SJHS Floral!!!
Order Form: 
https://docs.google.com/forms/d/e/1FAIpQLScJZ6mrKp2gkYAx3OrpQWJ56qglG1ERyhC0kl_lB7kPvpAmyA/viewform?usp=sf_link
Ms. Caballero
Agriculture Teacher
FFA Advisor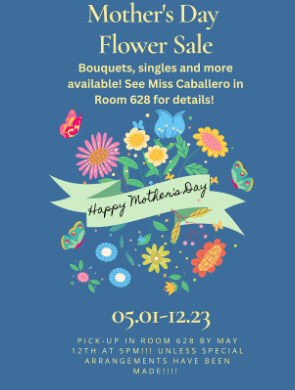 ---
TEACHERS PLEASE REMIND STUDENTS!
Don't be left out! Juniors:
Are you interested in leaving campus for lunch in your SENIOR year? Come by the Assistant Principals' office in room 119 and pick up your application!
Applications must be signed by student and parent, then returned to Jasmine or Denise anytime between now and June 2, 2023. Last day of school!
Applications submitted after June 2nd WILL NOT BE ACCEPTED!
---
Attention Seniors:
Senior Awards Assembly is scheduled for Friday, May 26th, at 9 a.m. in the Gym.
---
Students let's stay off the 'NO GO LIST" and participate in all activities.
If you attend a Saturday school it will remove one day of unexcused absence and tardies.
NO GO LIST:  3+ Unexcused Full Day absences (since Jan. 10)
18+ Tardies/Truancies (since Jan. 10)
Grades – 2+ F's for First Semester Grades
Discipline – Suspensions/SSR
Link to sign up for Saturday school
Admin Assigned Saturday School 22/23
---
The Talent Search Program is in need of 100 new participants to fulfill recruitment needs.  
Talent Search Flyer (Free Tutoring)
Talent Search Tutoring on Tuesdays and Thursdays after school in Room 110.
Eva Aceves – Angeles, MAEd.
Academic Advisor
Talent Search Program
Mt. San Jacinto College
Contact Information
[email protected]
[email protected]
Work Phone Number: (951) 487-3272
Work Hours: Monday – Thursday 8:00 am – 5:30 pm / Friday 8:00 am – 12:00 pm
For more information please visit:
Talent Search Program at MSJC Website
Talent Search Application
Talent Search Application in English
Solicitud de Talent Search
Solicitud de Talent Search en Espanol
Class of 2023
Class of 2023 – Senior Survey Complete ASAP
Needs Assessment
Talent Search Program – Student Needs Assessment 2022 – 2023 Complete it Today!
---
Graduation:
Friday, June 2nd
7:30pm
Tiger Stadium
Graduation Practice:
Tuesday-Friday, May 30-June 2
Time: 8:30-11:30
Practice is Mandatory!!
2023 SENIOR INFORMATION
---
Spring Sports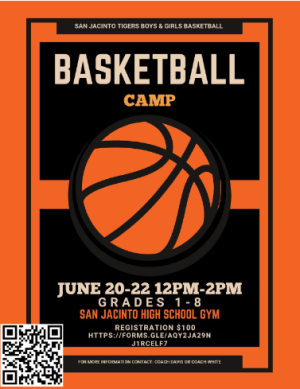 Please reach out to Coach Tiffany White or Coach Charles Davis at their SJUSD emails:

[email protected]

[email protected]
Thank you for your time and support!
Tiffany White
---
Spring Sports
Interested in playing Men's volleyball next year?
Stop by room 204 and see Coach Ray about out
summer program.
Thank you
Coach
Interested in playing Boy's Basketball next year?
Stop by room 535 and see Coach Davis about our
Spring/Summer Program
Charles Davis
Math 3 & Personal Finance
Room 535
Boys Basketball
Track and Field
CIF-SS Finals on 5-13-2023