April 5th 2023 – Tiger Morning News
April 5, 2023
Weekly News!
Please help me in congratulating our Month 1 Attendance Olympics winners for least amount of 3rd period tardies:
Ms. Landin 2. Mr. Nguyen 3. Mr. Still
(The tie breaker was unexcused period absences)
I was able to hand deliver their prize to them today and the students were so excited!
They immediately placed those Think, Thrive, Teach stickers on their Chromebooks and looked forward to the future of the competition. 
As you know the competition reset today and your class is back in the running for Olympic Gold.
For the Month of April students are competing to win Tiger Spirit gear T-shirts!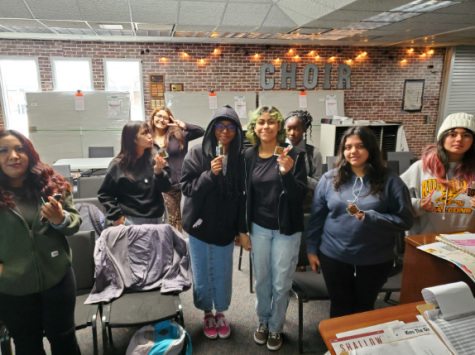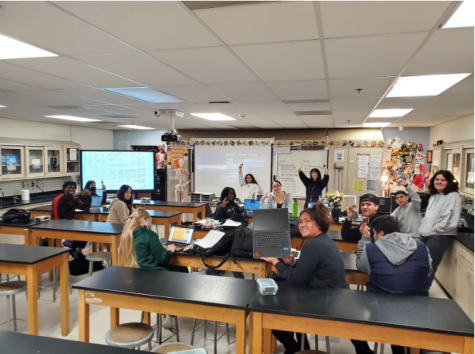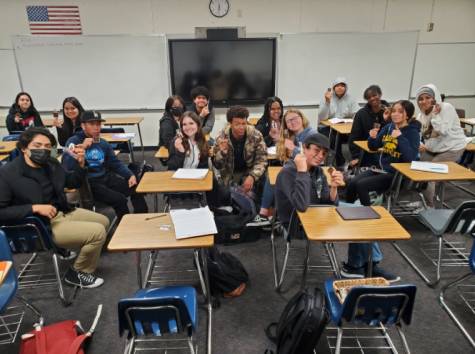 Please continue to have conversations with your students about being on time to class. 
I am also happy to announce that the grand finale field trip is a fun filled day at KNOTTS BERRY FARM on May 16th. This will include the overall top classes with the best attendance over the course of the Olympics. 
Please reach out if you have any questions
Let's race for that Olympic Gold month two Tigers!
---
Hello Tiger Country,
History was made at the girls varsity soccer team awards banquet this past Friday.  Freshman Jaelyn Frazier was selected as the Mountain Pass League MVP and also the Team MVP for offense.  Both of Jaelyn's parents are SJHS alumni and both were multi-sport athletes.  Her dad Michael is in the school's Hall of Fame and mom Theresa is a "white sweater' winner!
Senior team captain Belinda J. Fonseca was selected as the League MVP for offense for the second year in a row and also for the second year she was selected as the Team MVP.  This means her name will hang from the rafters at the Main Gym.  She was also recognized as the school's  Winter Sport Athlete by the community for the second year in a row!
Senior Viviana Valdovinos also made history as she was selected by her teammates as the Team MVP for Defense.  Last year she was the Team MVP for Offense!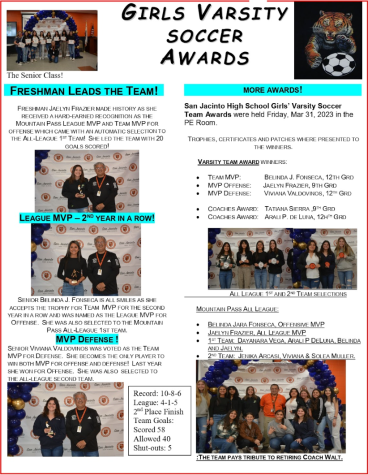 ---
Good morning!

Please congratulate our very own San Jacinto musicians on their selection into the San Bernardino Symphony Youth Wind Ensemble! 

Gabriel Flores- Clarinet 

Alfred Gomez- Euphonium 

Sadie Heritage- Trumpet 

Daniel Herrera – Percussion 

Alexander Jurado- French Horn

Rylee Seward- Trumpet 

This is a select ensemble that rehearses on Sunday's from 2pm- 5PM! I am extremely proud to have our students to be a part of such a fantastic group of student musicians from around the Inland Empire! The concert will be April 30, 2023 at 2pm at San Bernardino Valley College!

Mr. Harris
---
Good morning,
The Ed Foundation donation form now includes a spot for
'Our Wonderful Warrior'  is a scholarship fund to remember
Adanesne Carrasco Soto, Our Wonderful Warrior.
Please contact Coach Muscente (2212)  or Coach Ray (2204)
for more information.
Thank you Steve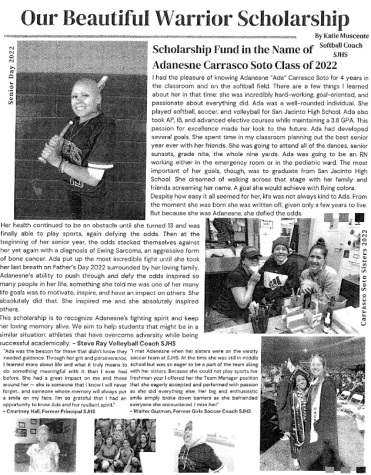 ---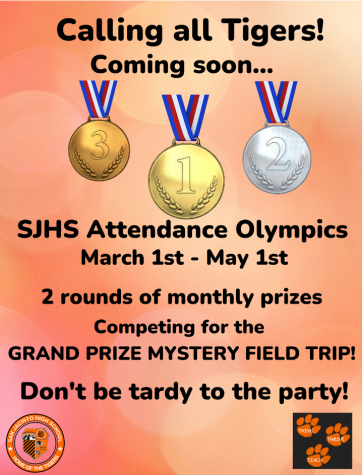 Attendance
Students let's stay off the 'NO GO LIST" and participate in all activities.
If you attend a Saturday school it will remove one day of unexcused absence, and 6 tardies.
NO GO LIST:  3+ Unexcused Full Day absences (since Jan. 10)
18+ Tardies/Truancies (since Jan. 10)
Grades – 2+ F's for First Semester Grades
Discipline – Suspensions/SSR
Link to sign up for Saturday school
Admin Assigned Saturday School 22/23
---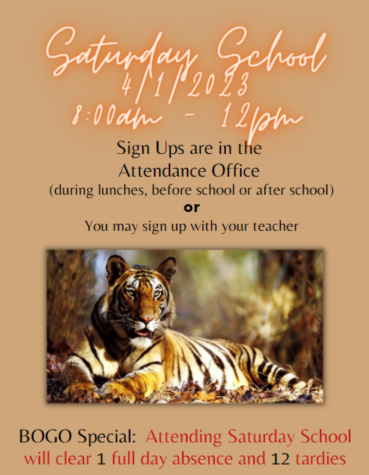 ---
Counselors
Attention Seniors! Join our Scholarship Workshop this WEDNESDAY @ Counseling during FLEX time to hear about scholarship opportunities and get assistance with ANY scholarship. We continue to have workshops every Wednesday! Get that FREE MONEY for colleges, universities, or trade schools $$$!
Best Regards,
Erika Nichols
School Counselor
San Jacinto High School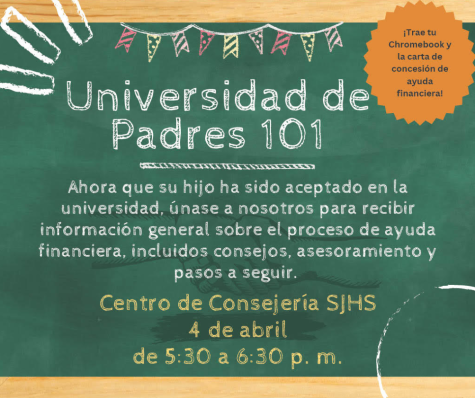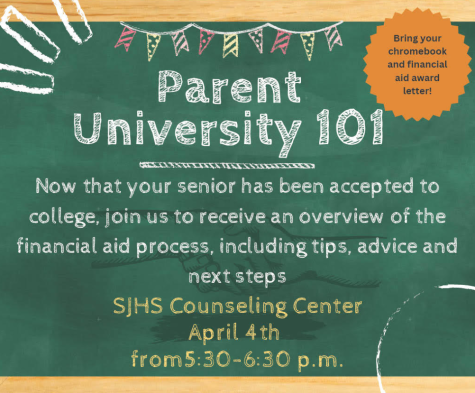 ---
Hi Tigers! 
School Counselors will be hosting application workshops on the following dates to assist students with the MSJC application for Summer and Fall, college applications, financial aid, scholarships and more! 
Stop by for help!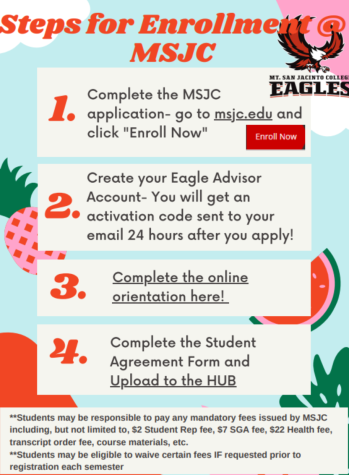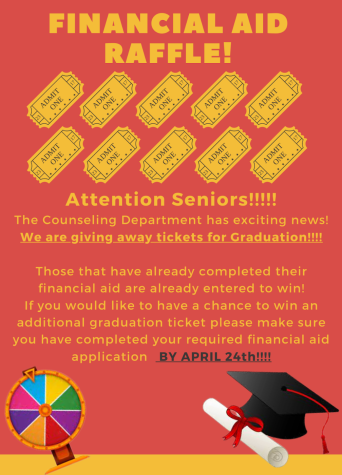 ---
Ask a Professional is a great opportunity for students to learn about various career fields from the experts themselves.
Our guest this week will be:
March 1st during flex: Learn about being an Ultra Sound Tech and learn about the Program over at MSJC.
March 2nd during flex: Learn about being a Health Care Recruiter for Aya Health Care.
Future careers include: FBI, Vet Tech, Actress, Sports Medicine, Culinary, Business and much more.
This is a great opportunity to learn about the career  and ask professional questions. Students can earn 1 hour of community service per session attended.  Sign up at tinyurl.com/askapro23  or  in  the counseling center!
Jennifer Aguilar, M.S., PPS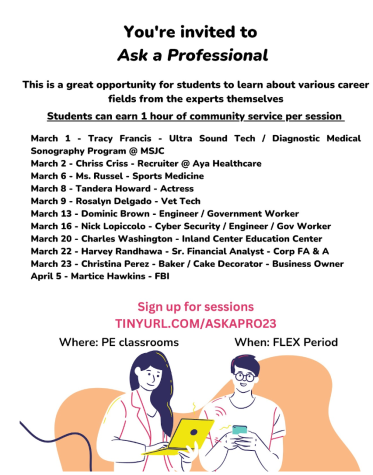 ---
Hello SJHS Seniors!! 
We wanted to remind you of the College Signing Day 2023 event that we will be putting on JUST FOR YOU AND YOUR FAMILY on Friday, April 28th, 1:30-3pm!! It's a celebration for students who are committed to continuing their post-secondary education after high school! It's a fun filled event with games, gift baskets, raffle prizes, etc!!
Please use this google form to save your spot for this event!
---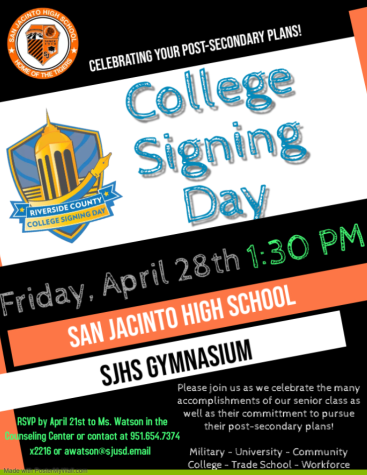 ---
Don't be left out! Juniors:
Are you interested in leaving campus for lunch in your SENIOR year? Come by the Assistant Principals' office in room 119 and pick up your application!
Applications must be signed by student and parent, then returned to Jasmine or Denise anytime between now and June 2, 2023. Last day of school!
Applications submitted after June 2nd WILL NOT BE ACCEPTED!
---
The Talent Search Program is in need of 100 new participants to fulfill recruitment needs.  
Talent Search Flyer (Free Tutoring)
Talent Search Tutoring on Tuesdays and Thursdays after school in Room 110.
Eva Aceves – Angeles, MAEd.
Academic Advisor
Talent Search Program
Mt. San Jacinto College
Contact Information
[email protected]
[email protected]
Work Phone Number: (951) 487-3272
Work Hours: Monday – Thursday 8:00 am – 5:30 pm / Friday 8:00 am – 12:00 pm
For more information please visit:
Talent Search Program at MSJC Website
Talent Search Application
Talent Search Application in English
Solicitud de Talent Search
Solicitud de Talent Search en Espanol
Class of 2023
Class of 2023 – Senior Survey Complete ASAP
Needs Assessment
Talent Search Program – Student Needs Assessment 2022 – 2023 Complete it Today!
---
Graduation:
Friday, June 2nd
7:30pm
Tiger Stadium
Graduation Practice:
Tuesday-Friday, May 30-June 2
Time: 8:30-11:30
Practice is Mandatory!!
2023 SENIOR INFORMATION
---
Events!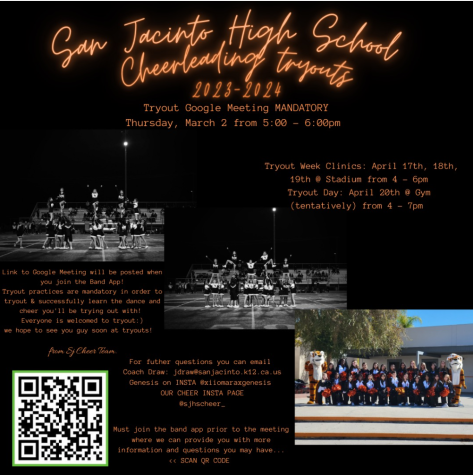 ---

---
Spring Sports
Baseball
SJHS Tournament [email protected] Park-San Diego Lions Tournament.
Softball
Varsity-SJHS vs.West Valley 3:[email protected] 1:45pm.
JV-SJHS vs.West Valley 3:[email protected] 1:45pm.
Volleyball (Boys)
JV-SJHS vs. West Valley [email protected].
Varsity-SJHS vs. West Valley 5:[email protected].