September 15, 2022- Morning Announcements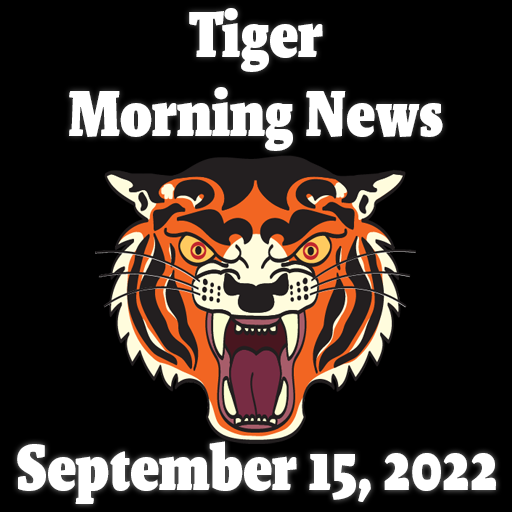 Attention Seniors: Scholarship Workshops will begin this Wednesday, Sept 14th, during FLEX in the Counseling Center. Come talk to Mrs. Nichols and Mrs Duenas and get important Scholarship resources. This will be a weekly workshop!
"BSU is Back! Our first Black Student Union meeting will be this Thursday during Tiger Time in the PE Classroom. Come see what we have in store for this school year."
"Are you interested in being a Tigers Mascot? Please email Coach Draw at [email protected] with your full name and student number for requirements and expectations. Thank you for your interest!"
SJHS Ballet Folklorico Club will love to welcome new members, if interested go to room 213 Tuesdays and Thursday afterschool.
Good News Tigers,
Club Rush will now be WEDNESDAY, September 21st, during both lunches. Same plan as before.
SJHS Ballet Folklorico Club is happy to announce that we are going to perform this Thursday 15th at this year's Latinx Heritage Month celebration at MSJC, Campus Menifee at 5:00 pm. Everyone is invited.
There will be a mandatory meeting on Wednesday, September 14th during FLEX for any student wanting to run for homecoming court. Please allow students to come to room 409 if they request. If this will be an issue, please let me know and I can work individually with those students to make sure they are able to meet the requirement.
Boys Soccer Tryouts and practice will continue 9/12/22 starting Monday at 4 pm on the grass JV Field( between the baseball fields ) behind the Gymnasium. More information will be given after school…
Please check in with any of the coaches at 4 pm or prior to the try outs in Rm 614 for Coach Claudio or Rm 515 Coach Kubotsu for Varsity and Coach Aldana Rm 532 and Coach Torres(Security) for JV.
Use the class code:TOSIEWA to Join the Google Classroom to get times and days and any other information.
Must be cleared on home campus to participate.
UCR AP Readiness Program
Attention AP students, The UCR AP Readiness Program is starting up again this year and the first session will be virtual on Saturday, September 24th. This program provides instructional support to help you pass your AP tests and you can also earn an additional graduation cord for attending at least 6 sessions this year. The following AP classes are being offered: Biology, Calculus AB, Chemistry, Computer Science, English Language, English Literature, Physics, Human Geography, Statistics, US History, World History and AP Spanish Language. Don't miss out on this great opportunity to get help with your AP classes and prepare for the test. Prior registration is required. You may do so at https://apreadiness.ucr.edu/ and complete the student registration form. The attached flyer gives you information on future session dates. Don't miss out, sign up today!
Attention Tigers! We are still looking for Lady Tigers who like to run or are up for a challenge.
See Coach Salcedo in room 207 or Join the Google Classroom for more information.
You will need a physical and athleticclearance.com before you can practice.
Come join the best of the best! Class code: lrosarr
Need Community Service Hours SJE is looking for volunteers to help with their Fall Festival Please See Ms. Amara in counseling rm 216 to sign- up
Tutoring sessions for students taking MSJC Math 140 (Statistics) or Math 211 (Calculus 1) Fall 2022 semester will be held in room 617 every Friday from 210 pm to 310 pm.
Boys Volleyball practice has started. If you are interested in
playing boy's volleyball check in with Coach Ray in
Time to get in shape and start your year right by joining the Aztec Dance Club!! Learn about Latin, Folkloric, and Aztec dances. For further details, send an email to Mr. Alvarado ([email protected]) or go to room 208.
Boys Basketball practices have started. One day try-outs are available to students who started school late or were not able to get cleared in time for the multiple week try-outs. If you are currently participating in a winter sport, but plan to go out for basketball, make sure to fill out the form in Google classroom and talk to one of the coaches. I would recommend that you attend and participate in one tryout/practice as soon as possible.
Use the class code: DEBKVZU to Join the Google Classroom to get times and days and any other information. Must be cleared to participate.
Hello tigers!
SJHS MEChA invites you to celebrate the start of Hispanic Heritage Month, observed Sept. 15- Oct. 15.
This year's theme is:
"Unidos: Inclusivity for a Stronger Nation."
The theme invites us to celebrate Hispanic Heritage and to reflect on how great our tomorrow can be if we hold onto our resilience and hope. Both the theme and poster reinforce the need to ensure diverse voices and perspectives are welcomed in decision-making processes, thereby helping to build stronger communities and a stronger Nation.It encourages us to reflect on all of the contributions Hispanics have made in the past, and will continue to make in the future. It is also a reminder that we are stronger together. All races, all colors, all backgrounds, all humans.
For more info. & to join club MEChA sign up in room 207 both lunches & next week during CLUB RUSH!
SPORTS
JV Football vs Beaumont @ SJHS 3:45 release 2:30
Freshman Football vs Beaumont @ Beaumont 3:45 release 1:30 depart 2:00
Girls Varsity & JV Tennis vs Hemet @ SJHS 3:15 release 2:00
Girls Varsity Golf vs Perris @ Cherry Hills Golf Club 3:15 release 2:00 depart 2:15